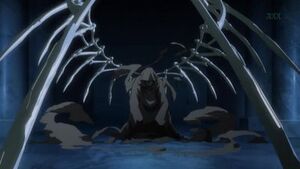 A Kor Serves Verloren and grants humans their wishes in exchange for their souls.
Since Verloren has been sealed away, his messengers, the Kor, find and contact humans to bring them under his influence. If a contract is made, a mark appears on the person's chest. This is known as Verloren's curse, and indicates one's heart being eaten by darkness. The 07-Ghosts work is to fight against Verloren and his curse and try to stop contracts from being fulfilled. Only the Bishops can remove Verloren's curse, in a complicated ceremony.
Ad blocker interference detected!
Wikia is a free-to-use site that makes money from advertising. We have a modified experience for viewers using ad blockers

Wikia is not accessible if you've made further modifications. Remove the custom ad blocker rule(s) and the page will load as expected.